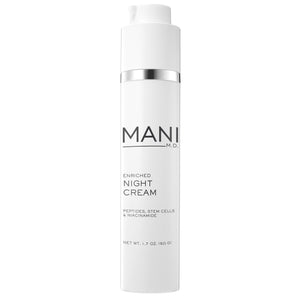 Mani M.D. Enriched Night Cream
Intensely moisturizing night cream combats dryness and nourishes skin back to optimum health. High performance ingredients work synergistically to nourish and repair the skin's barrier function, restoring skin firmness and visibly reducing signs of aging. Awaken to younger, hydrated, healthier looking skin.
Features a multi-targeted system of high performance ingredients which aid in the skin's hydration.
Biomimetic Ceramide Complex provides nourishment to help repair the skin barrier, improving elasticity and texture
Peptides complement the skin's nightly renewal functions and target wrinkles
Hyaluronic Acid penetrates skin to deeply moisturize and forms a protective barrier on skin's surface, locking moisture in
Niacinamide supports healthy collagen production improving the appearance of fine lines and wrinkles, helps brighten discoloration over time, and promotes healthy texture and even skin tone
Stem Cells promote softness, firmness and elasticity
Antioxidants combat environmental damage and soothe the skin