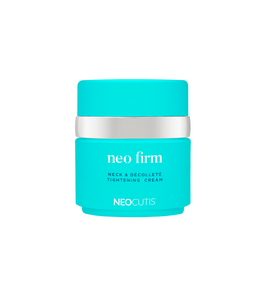 Neocutis Neo Firm Neck & Decollete Tightening Cream
Same Great formulation...new name and look!
Neo firm is a targeted cream containing a concentrated blend of ingredients precisely formulated to combat visible signs of aging on the delicate skin of the neck & decollate. This intensive complex is supercharged with MPC and packed with antioxidants and moisturizers as well as exfoliating properties to encourage cell turnover for a softer and more luminous appearance.
Formulated to combat visible signs of aging on the delicate skin of the neck & decollate

Enhance elasticity through promotion of elastin formation creating a more youthful, sculpted profile

Boost Collagens III & VII leading to the reduction of fine lines and wrinkles

With regular use, skin will appear younger and smoother